About My Railway Interest

At age 6, I got my first hands-on exposure to trains just before World War II with a Hornby Gauge 0 clockwork railway.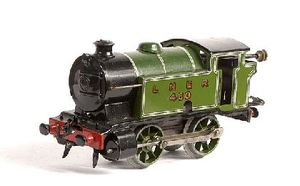 This Hornby 0 clockwork engine-type was the motive power on my favourite toy. It came with a few wagons and enough track for a circle and a siding or two.     
During the war I had to content myself with reading everything that I could about railways with books from the public library.
After the war, my grandfather bought me two used Hornby Gauge 0 electric train sets, which provided hours of enjoyment.




The first was the "Flying Scotsman", with a Pullman car ("Iolanthe") and some wagons, and the second, spotted in a second-hand shop right beside where my grandad used to take me to Sunday chapel (I know MY prayers were answered), the Hornby "Nord" set with two Wagon-Lits coaches and some more wagons. (The "Flying Scotsman" illustrated here is clockwork, whereas mine was of course electric.)  
My grandad was very good-natured, and at age 15, all of this was traded in for a brand-new three-rail "Duchess of Atholl" Hornby-Dublo set by Meccano Ltd., who by then had resumed production.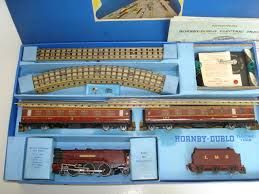 I was also an avid assembler of the then popular cardboard cut-out Micromodels, an early forerunner of N scale. There were many different series, and I bought as many as I could to assemble them, and built cardboard "track" for them, laid out on my grandad's back lawn on a fine summer's day. I suppose I was destined for N scale.  I don't remember what happened to all the models - perhaps I just gave them away when I made the decision to come out to Canada. My Hornby-Dublo trains I know I sold to Hatton's of Liverpool. It was the definitive end of teen-hood (how simple and so much fun it was then in a much simpler world), and the start of real life ...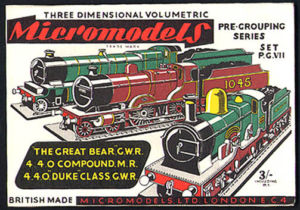 Of course I wanted to work for British Railways, but that was not to be.

Emigration to Canada beckoned in 1957. Model trains were now in abeyance until a basement presented itself in 1964. By this time Hornby-Dublo had progressed to two-rail production, and I persevered with my British prototype railway until the early 1970s.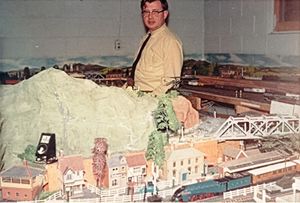 My first 00 layout in Canada in my first basement. About 1967. Hornby-Dublo 2-rail,
                             with Superquick, Airfix, Formoway (Graham-Farish) track, H&M switch-machines, Britain's Trees, Peco backdrops and some Triang accessories. 
It was during this time that I accepted an opportunity to teach a basic model railway course at Seneca College. Recognizing that some exposure to, and knowledge of, the North American prototype would be appropriate, I set out to obtain pictures of the fast-vanishing southern Ontario railway stations, and tried to learn as much as I could about the North American prototype and railway modelling in Canada.

The few years of teaching this basic model railway course proved to be the watershed of my railway hobby interest, as it was this course that prompted me to start taking an interest in North American railroading. By coincidence Peter Dobell (a founding member of the Toronto N Gaugers' Club) and I were neighbours in the early 1970s. He introduced me to scenery techniques in N scale, and it was then that I moved to North American prototype N scale. Peter and I also organized a neighbourhood hobby and crafts show. The model railway layouts there proved to be a real hit. Then, at Peter's instigation, the Scarborough Public Library provided space for some early model railway shows, which, together with local efforts by other clubs across Metro, evolved into the annual Toronto Model Railway Show sponsored by the CRHA, T&Y Division. Peter and I exhibited N scale at their first show at the old Toronto Harbour-front Ice House in 1976, then in the Queen's Quay post office building, and then in the CNE's Queen Elizabeth Building, up to and including the 7th annual T&Y Division exhibition in 1982; and also with two excursions out-of-town to Barrie and to Lindsay.

It was when I enquired with Ralph Beaumont at the Boston Mills Press about the stations he had written up in Steam Trains to the Bruce, that he asked me, since I was doing some research work anyway, if I would like to write a history of the Hamilton & North Western Railway. So it was that Rails To The Lakes was published in 1980, followed by the history of the Toronto & Nipissing Railway (Narrow Gauge For Us), in 1982. These two books were followed by numerous slide presentations on early Ontario railway history at historical and other societies.

My first major project in my retirement was a total revision of my earlier history of the Hamilton & North Western. A completely new book, Hamilton's Other Railway was published by the Bytown Railway Society in late 2001.

My next project was to edit Canadian Pacific to the East - The International Of Maine Division, a manuscript by Omer Lavallée, for the Bytown Railway Society, published by them in 2007. 
| | | | |
| --- | --- | --- | --- |
|   | | | |
With my work on Canadian Pacific to the East - the International of Maine  completed, I had originally planned to publish some work on the Northern Railway of Canada and the Buffalo & Lake Huron (formerly the Buffalo, Brantford & Goderich) Railway, but with four books behind me (counting my edit of the International of Maine); and 'Anna Domini' relentlessly progressing, I decided that any future railway history writing would be done on this website.
Latterly, I have had the privilege of being a proofreader for these books:
Steam Memories of Lindsay by Ian Wilson
Heckman's Canadian Pacific - A Photographic Journey by Ralph Beaumont
Rails to Goderich by Dave Hooton - Steve Thorning - John Mull - Ralph Beaumont
The Portage Railway  - An Illustrated History of the Huntsville & Lake of Bays Railway by Jeff Young and Peter Foley
Dining with Canadian Railways Vol I - Canadian Pacific Chinaware by Will Smith
During the past few years, I have also interested myself in the history of toy trains, specializing in toy train and model railway track "down through the years". I invite you to look up my page Toy Train and Model Railway Tracks. This includes information for anyone trying to identify track from the toy train era. While books on trains of that day are plentiful, information about track is scarce.
For as long as I can, I want to continue to enhance my N scale model railway that has been the focus of my personal model railway interest. Some time ago, I was fortunate to be the privileged recipient of a  "free-to-a-good-home" donation of, yes, a Hornby-Dublo 3-rail goods set in mint condition. It was inevitable that there was going to be a memory-lane expansion. The Hornby-Dublo effort will not however aspire to be a model railway, but what it was in its day-and-age, namely "Every boy's dream" - an "electric train" of the toy train era, and a memory-lane of days long gone by.